Mini Wheel Loader HQ908 with CE , Torque converter system,it can lift 800kg easily . This mini hoflader is a economy mini wheel loader, very usefull for a cattle farm,small garden etc.
Small Wheel loader (HQ908) Features :
1, Mini wheel loader With CE, ISO,SGS certificate;
2, Mini Loader With compact design, and cheap price, very usefull in a Farm or a Garden.
3, Mini Radlader With Europe style quick hitch , can attach many different kindsof tools in Europe .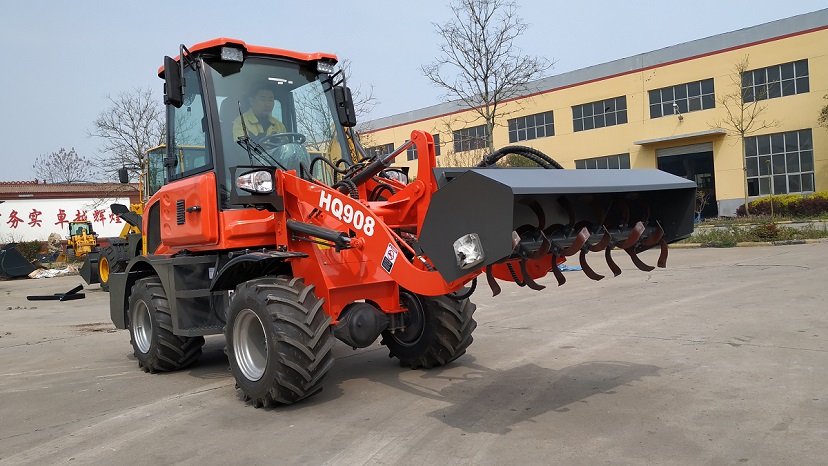 Small Wheel loader HQ908 Specifications:

1.0 ENGINE DETAILS
(1) MODEL:CHANGCHAI 390 or Euro III ,Euro 5 Type
(2) ZL08 Wheel Loader RATED POWER:29 KW or 36.8kw
(3) RATED SPEED:2200R/MIN(RPM)
(4) China Radlader MAX. TORQUE:90/1800 N.M/MIN
(5) FUEL CONSUMPTION RATION IN:252 G/KW.H
2.0 MICRO LOADER OPERATING SPECIFICATIONS
(1) BUCKET CAPACITY:0.5M3
(2) LOADING CAPACITY:800KG
(3) OPERATION WEIGHT:2790KG
(4) LIFTING TIME:≤8.0S
(5) DRIVING SPEED:0-12KM/H
(6) MIN. TURNING RADIUS:1989MM
(7) MAX. TURNING ANGLE:35°
3.0 MINI LOADER OVERALL DIMENSIONS
(1) OVERALL LENGTH(BUCKET ON GROUND):4500MM
(2) OVERALL HEIGHT:2380 / 2480MM
(3) MINI WHEEL LOADER ZL08 OVERALL WIDTH:1400MM
(4) DUMPING HEIGHT:2000MM
(5) DUMPING REACH:1100MM
(6) MIN.GROUND CLEARANCE:240MM
(7) LIFTING HEIGHT:3400MM
(8) LIFTING DISTANCE:1360MM
(9) WHEEL BASE:2170MM
4.0 BRAKE SYSTEM
(1) SERVICE BRAKE:FOUR WHEEL HYDRAULIC SPREAD-SHOED BRAKE
(2) BREAKOUT FORCE:28KN
5.0 TYRE:8.25-16 / 31*15.5-15 Agricultural tire